New Styles for Spring 2017 – Exclusive Simone Biles Collection
---
Burst into spring with the most vibrant colors in gymnastics leotards sure to bring your next workout to a whole new level! You will fall in love with our signature Simone Biles Spring 2017 Collection available now! Step up your moves on the balance beam with gymnastics leotards inspired by the most decorated American gymnast, Simone Biles.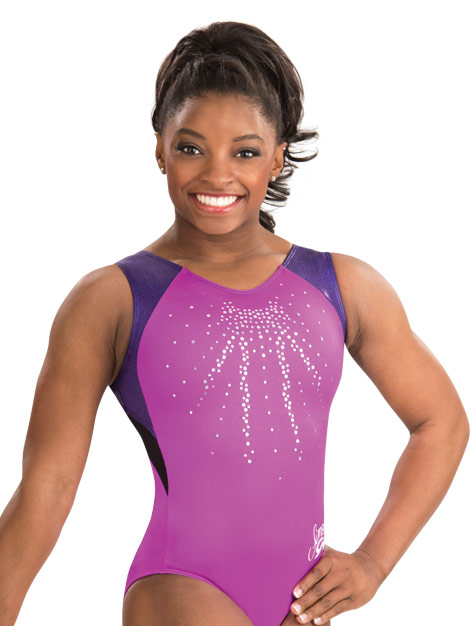 Are you looking for a trendy yet elegant look this spring? You can't go wrong with the Simone Biles Magenta Sparkle Leotard E3297 a stunning v-neck workout tank leo made in our gorgeous magenta nylon/spandex fabric and beautifully enhanced with midnight magic nylon/spandex shoulder accents. Your every move will sparkle with shimmering silver hologram sequinz delicately placed down front of bodice making this leo a real stunner. Our Simone gymnastics leo is finished with a unique cutout racerback style offering an artsy techmesh back for ultimate feel of comfort and flexibility.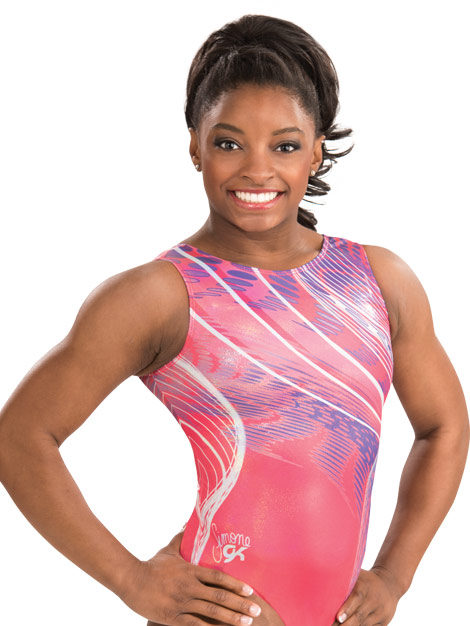 All eyes will be on you in our Simone Biles Coral Craze Leotard E3298 a sublimated tank leo made in our shiny holotek fabric featuring a captivating swirl of purple, pink, and white printed design across front and back. You will love the look of this classic scoop neck style in gymnastics apparel.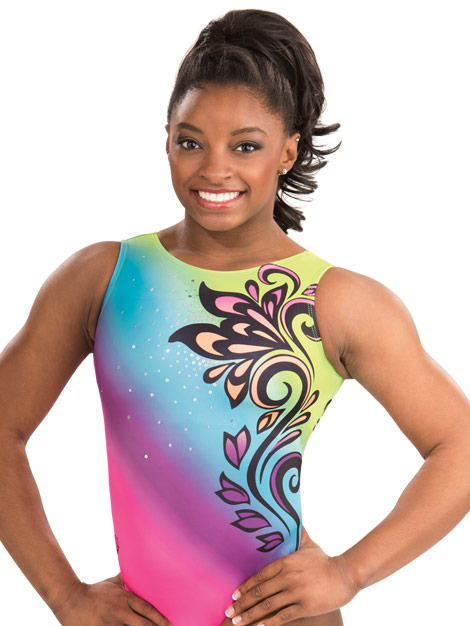 Do you love everything boho? This must have girly bohemian style is a great addition to any gymnastics tank leo collection. Our signature Simone Biles Boho Glam Leotard E3299 is a bright and colorful workout leo sublimated on our polytek fabric and beautifully accented with a bold black, pink, and orange swirling floral design which wraps around the side body over a gorgeous blend of rainbow hues. For a glamorous sparkling touch we added scattered silver hologram sequinz down front of bodice for ultimate shine. Don't forget to coordinate this trendy look with our matching Simone Biles Boho Glam Grip Bag E3364 to tote all of your gymnastics essentials. Sublimated on our inktek fabric with a magenta nylon/spandex back this signature bag features a berry mystique drawstring.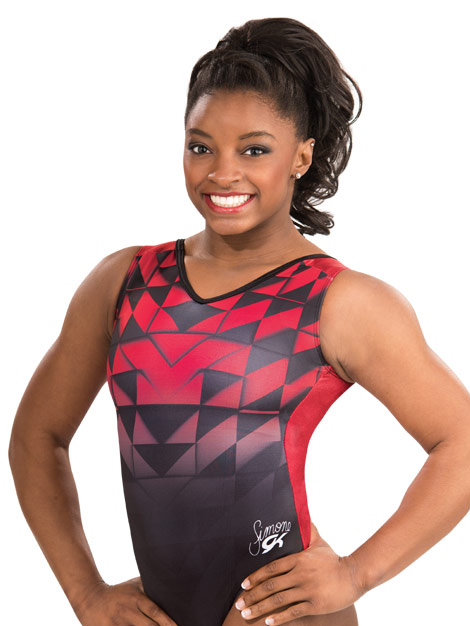 A more dramatic sporty style in our Simone Biles 2017 Spring Collection is our signature Simone Biles Checkered Classic Leotard E3300. Our classic Simone v-neck leotard features a hypnotizing red and black geometric sublimated design gradually fading down bodice into solid black on our polytek fabric. The back of this striking leo offers incredible shine with a solid red mystique fabric and finished with a v-neck black nylon/spandex trim.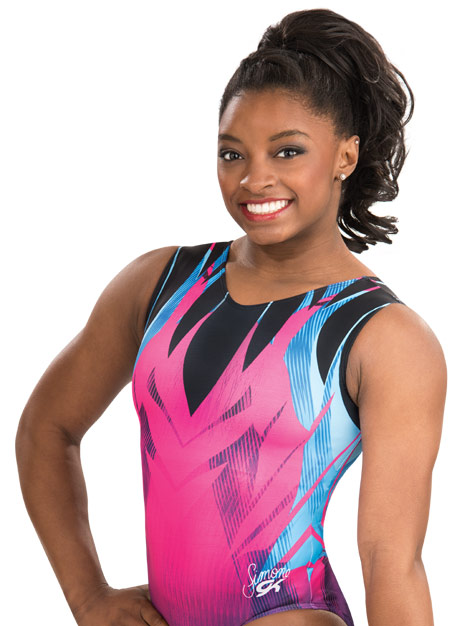 You will feel like a top gymnast in our Simone Biles Midnight Magic Leotard E3301. Just like Simone's big personality, this powerful v-neck gymnastics leo sublimated on our polytek fabric features an eye-catching sharp cut out pattern in solid black leading into an array of vivid blue, pink, and purple bodice designs on front and back. You are bound to perfect your floor routine in this remarkable tank leotard.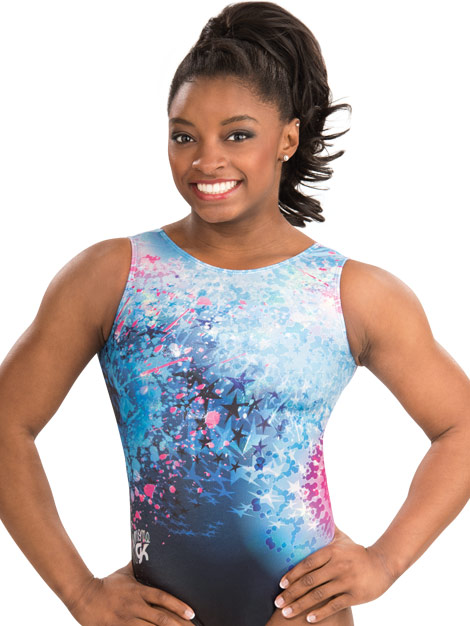 Want the look of a star gymnast? You will rise to new heights in our Simone Biles Starry Explosion Leotard E3296. This cosmic inspired gymnastics leo offers you a look you can be confident in as you focus on new gymnastics skills on the floor, bars, and beam. Featuring a bursting pink and blue star design printed on our shimmering holotek fabric, this scoop back sublimated leo is a definite staple this spring. Our sublimation process is a great way to set yourself apart and really stand out this season. Read more about our unique sublimation process here for the best designs, inks, and fabrics in the industry.
Follow us on Facebook, Twitter, and Instagram for even more signature looks in gymnastics apparel this season. Flip through our entire Spring 2017 Catalog below and let us know what you think in the comments.
GK. Choice of Champions.