Nastia Liukin Spring 2017 Collection Released and Replica Leo Now Available
---
Freshen up your gymnastics workout apparel collection this spring with an unforgettable, one-of-a-kind style in gymnastics leotards. You will have a legendary fashion-forward experience with one of our unique Nastia Liukin tank leos or even a stylish coordinating capri pant that is sure to raise your routine to the next level.  These hot styles won't last long, so get your next workout leo today!
Check out the Nastia Liukin Spring 2017 Leotard collection below!
Wild Watermelon (E3302)
Liven up your gymnastics workout this spring in our Nastia Liukin Wild Watermelon Leotard E3302, an eye-catching gymnastics workout leo featuring a fun pink, lime, and black textured pattern sublimated on our holotek fabric. Our Nastia Wild Watermelon leo features a bright and shiny neon lime mystique back bodice and a unique low scoop back neckline accented with eye-catching criss cross back straps in neon pink mystique.
Charming Elegance (E3304)
Are you a trendsetter? Want to add a bit of glamour and elegance to your floor routine? You are going to love our blushing Nastia Liukin Charming Elegance Leotard E3304 – a gorgeous scoop back gymnastics workout tank leo bursting with beauty! Sublimated on our shimmering holotek this pretty leotard blends blue, pink, and purple tones under graceful swirled designs and features a white unlined mesh upper bodice creating pretty sweetheart style lines.
Enchanting Abyss (E3305)
A more dramatic style for spring is our Nastia Liukin Enchanting Abyss Leotard E3305 which features vibrant blue and purple shades sublimated on our polytek fabric. A unique accent on this leo is a black unlined mesh upper bodice insert and dramatic black nylon/spandex back.
Daring Dragonfly (E3303)
Another striking look from our Nastia Liukin Spring 2017 Collection is our Nastia Liukin Daring Dragonfly Leotard E3303 a unique straight back gymnastics workout leo sublimated on our shimmering holotek fabric which features a one-of-a-kind printed design with midnight nylon/spandex shoulder straps and back panel. These vibrantly designed gymnastics tank leotards are a brilliant way to add a touch of drama to your leo collection this spring. These Nastia Liukin styles and all GK gymnastics leotards come with a matching hair scrunchie to complete your look.
2017 Nastia Liukin Cup Replica (E3591)
Are you ready for this? You are going to leap for joy with our limited edition 2017 Nastia Liukin Cup Replica Leo E3591. A must-have for spring, this gorgeous bright berry mystique gymnastics replica tank leo displays an ornate design shimmering down front of bodice with our beautiful sparkling silver hologram Spanglez. With a distinct workout leg cut, our Nastia Liukin replica leo is a great collectible to add to your spring gymnastics wardrobe.
Onyx Mesh Capri (E3277)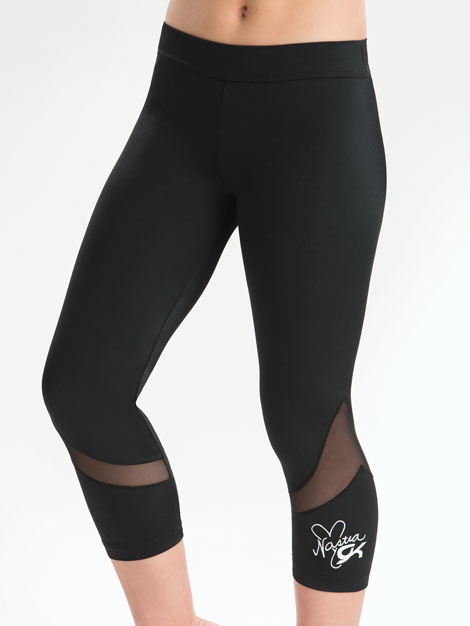 You will complete your spring gymnastics apparel look our coordinating Nastia Liukin Onyx Mesh Capri E3277, a basic black nylon/spandex capri pant with graceful and sleek black mesh inserts just under the knee. A perfect finish to your remarkable Nastia Liukin gymnastics style this spring, these adorable capris provide an outstanding solution as you master your gymnastics skills this season.
BONUS: GK Spring 2017 Video
Be sure to follow us on Facebook, Twitter, and Instagram for the hottest trends in gymnastics wear. Check out even more pretty hues with our new arrivals in gymnastics leotards today!
GK. Choice of Champions.